Many DJs "throw in" (or upsell) lighting as part of their packages, and it's usually done to mask the quality of their entertainment service - the core of their business. We strongly believe that lighting can't be done by just anybody - quality lighting is best provided by companies dedicated to lighting design and that have an understanding of what different lighting fixtures do to get the desired effect you're looking for, and when they should (and shouldn't) be used. We pride ourselves in being able to study with some of the top lighting designers in the country to better provide our clients with a lighting experience that is second-to-none while accomplishing the look you're after (and many times, exceeding their expectations). We would like to invite you to explore the various lighting options we can provide for you to bring life to your celebration space.
Dancing on the Clouds - $325
Dance on a romantic and dream-like cloud as you share a special dance with your new husband/wife
Imagine how beautiful your photos will look with this simple added feature
Intelligent Lighting - $300
Two (2) of our newest synchronized moving head intelligent lights on stand-alone "towers"
Lights are fully programmed for your affair with a grand entrance and club lighting effects all controlled by a trained lighting technician
A way to put your stamp on the day
Design it yourself or with the help our your event team
Pinspotting - $49/centerpiece
Accentuate your beautiful floral arrangements in the center of your tables
Highlight important focal points in the room like a cake, dessert table, or sweetheart table
String Lighting - $1/foot
Add a romantic bistro/patio look to your reception space
Creates an intimate setting no matter the location
Installation Fee: $150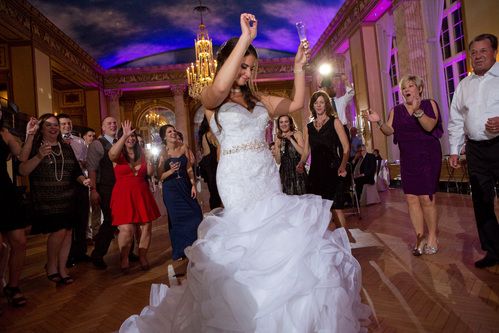 Uplighting - $499/18 fixtures
Accentuate pillars, columns, archways, doorways, and focal points in your Reception space
Beautifully paint the walls of your reception space (and have the ability to layer colors or control color changes for different moments during your event)
Battery-powered means no untidy cables and tripping hazards - results in better looking photos
Great for moderate coverage of your reception space
A professional lighting technician can create customized light shows to properly complement your special dance moments, your guests' shared intimate dance moments, and your high-energy dance sets.
Want more coverage? Contact us for quote!