Your event will be professionally produced and your expectations will be exceeded. We remain active throughout all stages of the event, from concept to completion, and we execute our events with extreme attention to detail and earning your trust.

Whether you simply need a video screen rental or you would like us to design and plan your entire event – we would love to help. We have a team of professional entertainers, event directors, and A/V techs ready to help make your event an overwhelming success.
Uplighting
Accentuate pillars, columns, archways, doorways, and focal points in your Reception space
Beautifully paint the walls of your reception space (and have the ability to layer colors or control color changes for different moments during your event)
Battery-powered means no untidy cables and tripping hazards - results in better looking photos
Great for moderate coverage of your reception space
A professional lighting technician can create customized light shows to properly complement your special dance moments, your guests' shared intimate dance moments, and your high-energy dance sets.

Small Venue: $250/6 fixtures*
Medium Venue: $600/18 fixtures*
Large Venue: $1,000/36 fixtures*
Extra Large Venue: $2,500/100 fixtures*
*Packages cannot be adjusted as each package has been created to give you the desired look you're hoping to achieve.
Pinspotting
Accentuate your beautiful floral arrangements in the center of your tables
Highlight important focal points in the room like a cake, dessert table, or sweetheart table

1 table: $40
5 tables: $175 (save $25)
10 tables: $300 (save $100)
20 tables: $500 (save $300)
More than 20 tables? Custom pricing available!
Dancing on the Clouds: $325
Dance on a romantic and dream-like cloud as you share a special dance with your new husband/wife
Imagine how beautiful your photos will look with this simple added feature
Digital Monograms: $300
Personalized with your names, initials, wedding date, etc.
Project an image onto a wall or dance floor.
3' x 3' section (white/black/checkered/wood): $20/section
3' x 3' Sub-Floor (required on grass): $10/section
Cover the walls or create showroom booths with your choice of black or white drapery

Up to 12' tall - $10/ft wide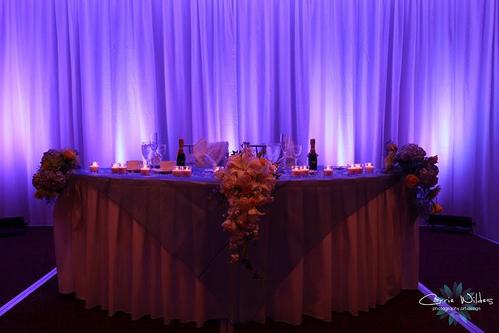 Two-Speaker Sound System (QSC): $250
Four-Speaker Sound System (QSC): $500
Large Room Sound System (QSC): $1,000+
We have just about anything you'll need when it comes to putting together a corporate conference, meeting, gala, and retreat.
Contact us
and let us know how we can help!